Digital Marketing Trends To Be On Top Of In 2018
by Ben Tuck, upriseUp
Posted on 4 September 2017
Digital marketing is such a fast-moving industry that it's almost impossible to keep in line with, let alone be ahead of the curve.
However, we've compiled the top 5 digital trends that we think should be considered as they are going to be big in 2018.
The Rise, And Rise Of Automated Marketing!
Automated marketing is a side of digital marketing that is only getting bigger and bigger, and here are a few reasons why it'll continue to get grow:
Targeting and tailoring user experiences – One of the massive benefits of automated is the ability to create a number of different user journeys targeting your ideal customer. By having custom content tailored to each different audience and providing this at the time users are potentially looking for it, they are more likely to be engaged and feel involved with the brand.
Value – Automated Marketing is all about getting more from the traffic your channels are delivering and increasing the value of each targeted user. Although it can be a painstaking process at the beginning to set up, the real value from automated marketing is time. Once set up, workflows and processes require very little maintenance and allow you to provide a better, more customised journey for your users, and will free up the time usually spent on email marketing and outreach.
The Big Programmatic Paid Search Push
Google has been making great strides in programmatic advertising over the past few years, and this doesn't look like it is slowing down anytime soon.
More Data Insight – Paid search (the paid ads you see at the top of search results) is at its best when it is targeting people at the exact moment they are searching for you or your service. As Google starts to compile even more data on user's search habits, as well as your business and service, they will develop an even greater picture of who your target audience is. Programmatic helps us target them.
Programmatic Paid Search – Smart Insights define programmatic as, "automated bidding on advertising inventory in real time, for the opportunity to show an ad to a specific customer, in a specific context". Paid Search is one of the fastest moving media channels out there, and this is just another evolution of the way this media is managed. However, the fundamentals still won't change – the more relevant you are to the search term, and the user's intent, the better your position within the auction. Programmatic is just another way of enhancing that relevancy.
Content Will Still Be King
You've probably heard the phrase 'content is king'. When it comes to trends in 2018 and beyond, this is one that will not be changing. However, there are some things to consider to ensure your content marketing efforts continue to thrive.
Using smart content – Machine learning means that the ability to control who sees your content is becoming easier, and this means you can use tools to a/b test who sees which version of your content. If you understand your target audience, this can allow you to really boost your conversion rate.
Utilising several types of content – The trend towards varying the type of content you release has already taken on a life of its own. In 2018, this trend is expected to continue. For example, 41% of marketers surveyed say that webinars are an effective tactic.
Considering social media – It's important to start creating content with social media in mind (yes, that means building a social media presence is a must in 2018). A third of millennials say social media is one of their preferred channels for communicating with businesses. If you plan on building a brand that will stand the test of time, get social.
Quality and relevance – Understanding how to effectively market your content will be essential in getting organic traffic. In 2018, quality and relevant content are going to be more important than ever. Be prepared!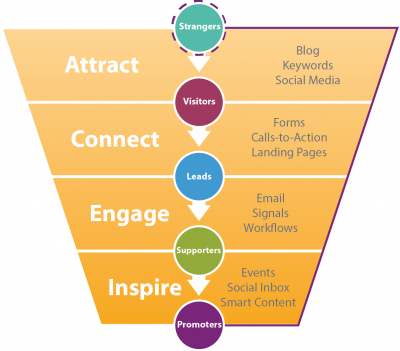 The Impact Of Video
Video content is brilliant as it's one of the most engaging forms of content. Online video consumption is rising each year and has been surpassing television consumption amongst the younger generations, and we expect this to continue for 2018.
Increased use of subtitles – As video content is increasingly being consumed more on mobile than desktop, and as social media platforms now automatically play videos as you scroll to them, the majority of video content on mobile is now being watched without sound. Therefore, we expect to see a rising trend of people adding subtitles so that users can still receive the message of their video, and go on to like or share, even without listening to it.
Rewarded for using video – many social media platforms now favour video posts over other types and are putting it to the top of people's feeds. This will lead to more people posting video content and investing in video advertising, especially on social media.
The decline of pre-roll – We expect even more advertisers the move away from traditional pre-roll video ads. Users don't want to be forced to watch an ad before viewing that content they want to see, making pre-roll ads increasingly unpopular.
Shorter videos – More and more research is showing that ads that are 15 seconds or less are much more effective than longer ads, meaning advertisers should produce shorter video ads, but of a higher quality as they have a shorter amount of time to grab their audience.
Ecommerce: Users Wanting To Shop Until They Drop!
Shopping ads are probably the most immediately eye-catching item on search engine results pages. They have the benefit of displaying an eye-catching picture, whilst also appearing at the very top of the results page, above both organic and paid search results!
This makes Shopping extremely attractive to advertisers, and they have responded by spending more and more on Shopping ads and we expect this trend to continue into 2018. Shopping ads are especially great as they typically get a better CTR than traditional text ads, and have the potential to achieve an astronomically high return on investment if managed correctly.
Bonus: Utilising Smarter Data
As digital marketing moves towards using more and more machine learning, it becomes vital that your data is as accurate as possible.
Data integrity is vital to optimising your digital marketing activity and ensuring your strategy is providing you with the best possible return. It's alarming how many Google Analytic accounts we see still recording inaccurate data, even in 2017.
That's our list of the top trends that we predict digital marketers need to be considering in 2018. We'd love to know your thoughts!